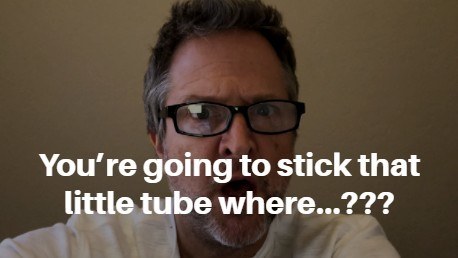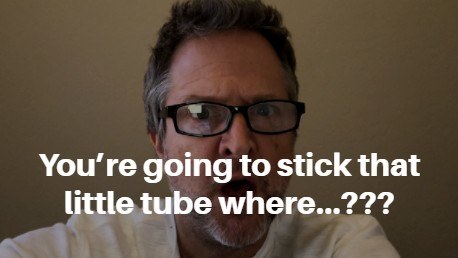 "Well…what we'll do is book you to come back for a Cystoscopy and check out your bladder first and make sure everything is in order."
My doctor gave me a deadpan look and then started scribbling stuff on his 'pad' (which I'm POSITIVE he couldn't read either).
"Um…so doc…what is a Cystoscopy?' I asked hesitantly…deep down thinking 'shat…I'm not going to like this…'
You're going to stick that little tube where…??? [VIDEO]
"Oh!" he said matter-of-factly (and I could almost sense a touch of glee), "It's a camera we'll insert in to your urethra and make sure your bladder is healthy."
I cocked my head sideways (no pun intended), felt a brief cold shot go down my spine and replied somewhat shakily, "oh…ok."
"Oh criminy…" I silently muttered to myself.
I had heard about this procedure when I was younger and remember thinking to myself "I'm SURE that's not in my future when I get older…"
But here I was…and now I AM older!
Damn you Father Time…Damn you!!
Shortly before this, I had been diagnosed with some prostate issues and didn't want to mess around.
So 5 days later they put me on the table, and proceeded to violate my manhood.
Surely this would be the worst day of my life.
Not even close.
15 minutes later…with zero pain the doc said "you're great." (of course he started scribbling nonsense on that pad again…)
"Really??" I replied. Now I was feeling gleeful…and SO relieved. All my fears were basically unfounded.
And so it's much the same when we embark on our online business journey. Whether it's coaching, an MLM, starting an agency or just calling cold leads (there IS a better way than THAT one trust me), we all have fears about who is on the other side of that phone…or instant chat.
"What if they yell at me??"
"What if I look stupid?"
'What is they say no??"
It's usually one or some combination of the above and let me tell you…they are ALL unfounded.
How do I know this? Kenster has been at this for 17 years (remember that's like 326 Medieval years) and I've seen and heard it all.
And what is exactly 'All'??
That's why I get a healthy amount of opt-ins to my Insiders Email Group. I not only dispel most fears about starting and running your online business, but I also show you the correct way to actually build it while making you look like the authority you can be.
To get more info on what I've done go click on the red button right below this or join my list (the form is here on the website).
Doctors visits not included…