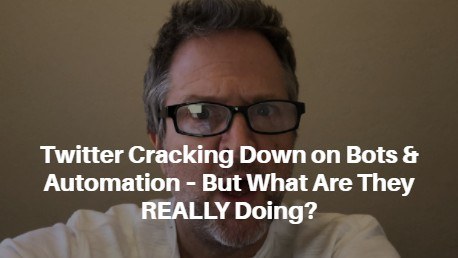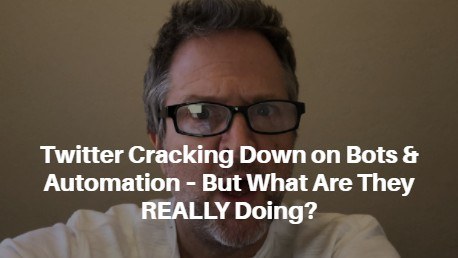 Twitter announced last month that they are severely limiting the use of bots and automation by users of their service in an effort to combat spam.
While this is certainly true, I will tell you what I think they have planned as a result of this latest update.
Twitter Cracking Down on Bots & Automation – But What Are They REALLY Doing? [VIDEO]
What is Twitter Actually Doing?
From The Verge:
Twitter is announcing major limits on how users and apps can automate tweets, in order to combat spam and political propaganda bots. Developers are now banned from using any system that simultaneously posts "identical or substantially similar" tweets from multiple accounts at once, or makes actions like liking, retweeting, and following across multiple accounts at once. Twitter will remove these options from its own TweetDeck app, and third-party developers have until March 23rd to comply.

Twitter says these actions are "an important step in ensuring we stay ahead of malicious activity targeting the crucial conversations taking place on Twitter — including elections in the United States and around the world." It alluded to the plan last month, when it revealed that over 50,000 accounts were linked to Russian propaganda efforts.
Here Are the Three Changes That Likely Affect You
1. You Cannot Post the Same Tweets on Multiple Accounts
2. No Simultaneous Actions From More Than One Account
3. You Cannot Post the Same Tweet More Than Once on the SAME Account
Number 3 is a biggie! Scroll up and watch my video where I will talk about these 3 points…and what I think Twitter has up it's sleeve other than combating spam.
Have you joined my Email Insiders Group? You should…