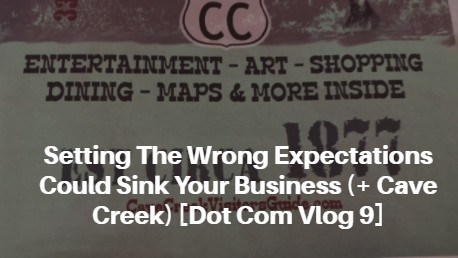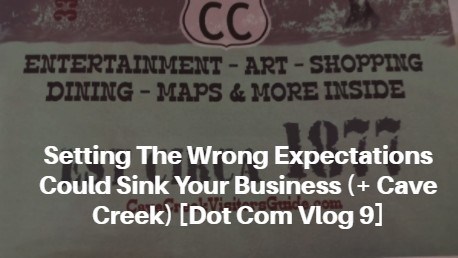 Setting the wrong expectations in your online business will not only frustrate you but there's a good chance that it will put you out of business. Why? Watch my video to find out.
Plus, check out Cave Creek, Arizona and what I didn't expect…
Setting The Wrong Expectations Could Sink Your Business (+ Cave Creek) [Dot Com Vlog 9][VIDEO]
A Visit to Cave Creek, Arizona and My Surprise
I took a little journey to the 'small town' of Cave Creek, Arizona. Cave Creek is about 25 minutes north of Scottsdale
Here's a brief background from Wikipedia:
Cave Creek is a town in the Sonoran Desert.

According to the United States Census Bureau, the town has a total area of 28.2 square miles (73 km2), all land. It is adjacent to the town of Carefree, and shares local landmark Black Mountain with Carefree.

There are two notable streams known as Cave Creek in Arizona. One flows through the Town of Cave Creek and into Phoenix. This may be the origin of the Town's name. The other Cave Creek (Cave Creek Canyon) is in the Chiricahua Mountains, 200 miles to the southeast.

In 2000, the state of Arizona, Maricopa County, and the town of Cave Creek bought Spur Cross Ranch, owned by Tyler Covell, a 2,154-acre (8.72 km2) tract of Sonoran desert just north of Phoenix, for $21 million. It had unusual cacti, stone formations, and hundreds of pre-history Hohokam Indian tribal artifacts, and is now a Maricopa County park.
What I didn't expect was the size population-wise. Even though the town itself has a very 'small town' feel the population is around 10,000 but very spread out.
I loved going up there and will do a more detailed video in the future.
Setting The Wrong Expectations Could Sink Your Business
Maybe the most common thing I see with people struggling in their online business is they set the wrong expectation for themselves:
– They think buying THAT ONE course will make them wealthy…
– They ask someone if THAT traffic source works…
– They think that every lead should buy what they are selling…
– Cryptocurrency: They think this is different than other investments…that it is the way to easy money…
Watch my video and I will address these common misconceptions.